Ambleside Walks

Lakeland Leisure Walks publish a series of walks around the Ambleside area. The 'serious' walkers favourite base in the central Lakes Ambleside has a superb variety of walking terrain on its doorstep and we've done five of the best routes covering all points of the compass. For those wanting a taste of the high fells please see our individual circular route up and around Wansfell. There's lots to commend Ambleside including the range of shops, pubs, restaurants, cinema and good bus links.
5 Easy to Follow Ambleside Walks Pack £2.50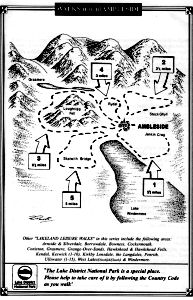 Lake Windermere
A most rewarding walk which constantly reveals breathtaking views across Lake Windermere 3 - 3.5hr
Stock Ghyll
One of the most popular walks with spectacular "Stock Ghyll" waterfalls and fantastic views 1.5 - 2hrs
Loughrigg Fell
A suberb walk around "Loughrigg Fell" with panoramic views.
The Vale of Rydal
A favourite walk along the egde of the flat meadowland which form a unique and very special part of the picturesque "Rydal Valley" 1.5 - 2hr
Skelwith Bridge
This is a perfect walk along the lower slopes of "Loughrigg Fell", where you cannot fail to be impressed by the magnificent splendour of the Lake District scenery 2.5 - 3hr
xxx
Easy to follow fell routes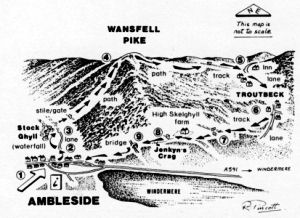 Wansfell
Starts from the 'Tourist Information Centre' in Ambleside 4 - 5hrs
Spectacular mountain views form the summit with the beautiful village of Troutbeck at the half way point on the route before descending towards Ambleside with panoramic lake views. Sublime!
xxx