Grange Over Sands Walks
Lakeland Leisure Walks publish a series of walks around the Grange Over Sands area.
5 Easy to Follow Walks around Grange Over Sands pack £2.50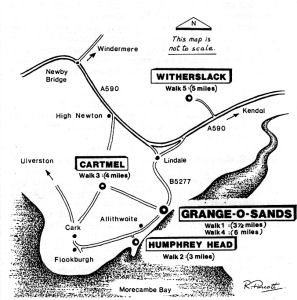 Hampsfell
a very popular walk that ascends through delightful woodlands, then follows well-defined tracks along open fell, with stunning views of Morecambe Bay. One of the very best routes in the whole area.
Humphrey Head
A unique walk which combines country and coastal scenery, with unsurpassed views across the Bay. Legend has it that England's last wolf was slain here... 1.5 - 2hr
Cartmel
A delightful walk, full of 'ye olde world' country charm, centred on the very picturesque Cartmel Village. Great walk to break for a country pub lunch or to pick up some original Cartmel Sticky Toffee Pudding 2 - 2.5hr
Cartmel via the 'Hospice'
Nestling admist lush pasturelands in a quiet valley, this splendid walk across Hampsfield Fell, to reach the villiage of Cartmel, still remains a favourite. 4hr
Witherslack
This walk is a real eye-opener as you experience the gentle wooded beauty of the Winster Valley. 3hr
xxx