Cycle Routes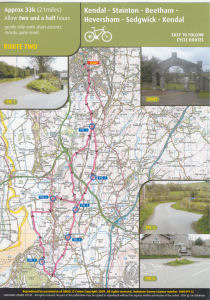 Lakeland Leisure Walks publish a series of cycle routes in the Lake District. Aimed at first time or not especially fit riders, they all feature fine views and keep well away from busy roads. All on road with lots of options to stop for refreshment..... Sold in weather proof sealable plastic sleeve.

INDIVIDUAL ROUTE CARDS
Route 1 - Kendal, Crosthwaite, Bowland Bridge, Witherslack, Levens, Kendal.
Approximately 38k (24miles). Allow 3hrs. Mixed terrain some sleep ascent / descent at start of route.
Route 2 - Kendal, Stainton, Beetham, Heversham, Sedgwick, Kendal.
Approximately 33k (21miles). Allow 2.5hrs. Gentle ride with short ascents, mostly quite level.
Route 3 - Windermere, Car Ferry, Near Sawrey, Grizedale, Cunsey, Windermere
Approximately 35k (22miles). Allow 3hrs.. Mixed terrain, moderately strenuous with some sharp ascents. Ferry charge for cyclists £1 each way.
These handy A5 size cards are sold with sealable plastic sleeves to keep the rain off and feature meticulously detailed text directions (on rear side-not shown on pic) with corroborating photos to ensure you take the correct turn at vital points! The above are all priced at £1-50 each.
PACKS - There are two packs of traditional leaflets featuring detailed text descriptions of routes. Sold with sealable plastic sleeve. Priced at £2.50 per pack.
Pack 1 (Central and south Lakes) - Five different routes:
Pack 1 Cycle Routes
£2.50
Route 1 - 14miles. Ambleside, Grasmere, Langdale, Ambleside
Route 2 - 20 miles.Ambleside, Hawkshead/ Tarn Hows, Coniston, Ambleside
Route 3 -18 miles. Bowness, Bowland Bridge, Crook, Bowness
Route 4 - 22 miles.Hawkshead, Far Sawrey, Rusland, Coniston Water, Hawkshead
Route 5 - 18 miles. Grange over Sands, Flookburgh, Cartmel, High Newton, Grange over Sands