Classic Drives
Lakeland Leisure Walks also publish a series of full colour Classic Drives in the Lake District. Each route folds out to a 'lap size' map (A3) featuring a colour map and text description of all the turnings and distances along with viewpoints, picnic sights, parking etc. More information about the places you are seeing is included on the rear. Switch off the sat-nav and guide yourself around Lakeland's highlights!
Pack of 3 Classic Drives Routes £2.95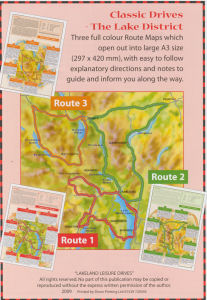 Classic Drives Route 1 - Coniston, Gt. Langdale, Ambleside, Bowness, Hawkshead, Coniston.
This popular drive takes you in a clockwise direction through the very scenic south Lakes countryside and encompasses eight of the most beautiful lakes and tarns, a variety of majestic mountains that overlook peaceful and unspoiled valleys and avariey of ancient villages and delightful hamlets. 30 miles
Classic Drives Route 2 - Ambleside, Troutbeck, Ullswater, Keswick, Grasmere, Ambleside
This very rewarding drive takes you to in an anti-clockwise direction between Ambleside in the central Lakes region, up through the ancient village of Troutbeck, across the dramatic Kirkstone Pass and then down along the beautiful shoreline of Ullswater, followed by outstanding parnoramic views of the northern mountains towards Keswick, before returning to the central area via the charming village of Grasmere with its famous literary associations. 60 miles
Classic Drives Route 3 - Keswick, Borrowdale, Honister Pass, Buttermere, Lorton, Keswick
This superb drive takes you through the majestic mountain scenery in the northern part of the Lake District and arguably this is probably the most picturesque route out of the 3 in this pack. It encompasses the very special town Keswick, then down through the valley of Borrowdale where the towering, but beautifully sculptured rocks create an impressive backdrop to the lake of Derwent Water, followed by a steep ascent over Honistor Pass to experience the stunning scenery along the side of Buttermere and Crummock Water before completing the tour via the wooded slopes of Whinlatter. 28 miles.
Section of part of map side (text is totally clear on real thing!)
Section of notes side