Grasmere Walks
5 Easy to Follow Walks Grasmere £2.50
Lakeland Leisure Walks publish a series of walks around the Grasmere areas.
Grasmere Lake
Justifiably famed for its beauty, the beauty of Grasmere's setting is known throughout the world through the poetry of William Wordsworth. This easy walk around the lake does benefit of from a modestly elevated section to enhance the views.
Alcock Tarn
A short and sharp ascent will get the heart beating but it's worth it for breathtaking (!) views and an ideal picnic / rest/ view point in Alcock Tarn. Descend to Grasmere village and rejoice in the selection of refreshment on offer.
Elterwater
Set out from Grasmere to reach Elterwater, the 'start' of the Great Langdale valley. Leave the bustle of Grasmere and enjoy every step of this varied walk featuring sublime views, quite possibly at their best in late Autumn.
Easedale Tarn
A taste of mountain walking to the sizeable Easedlae Tarn by way of the impressive Sour Milk Gill waterfalls. A walk of two halves, tranquil valley and wilder mountain terrain though good paths make it suitable for all weather conditions.
Rydal Water
Central Lakeland's two favourite lakes. Easy walking either by the shore or in sight of the Grasmere and Rydal water lakes with two of Wordsworth's homes on the route.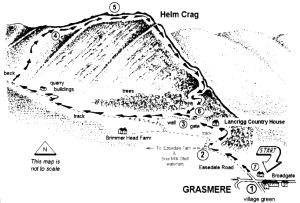 Helm Crag
From the Villiage Green in Grasmere 2.5 - 3.5hrs.
One of Wainwright's favourites and a great 'first mountain' for families to attempt. Superb view from the top with a dramatic rocky top known for the various names given to the shape of the rocks, including most famously, the 'Lion and the Lamb'. 95p to entertain and tire out a family in the Lakes? Bargain!
xxx
Helm Crag easy to follow Lake District Fell Routes 95p